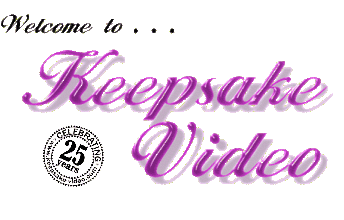 Making Video History! TM
---
Keepsake Video is an award winning event video production company located in the Clear Lake Area, serving greater Houston and Galveston, Texas (and beyond). Through the medium of video, we have been preserving cherished memories for over 25 years!


We provide many video transfer and custom digital editing services including:
Professional memberships and associations include:
---
If you have questions, please feel free to call us at 281-482-2400 or E-mail us at
service@keepsake-video.com
361 East Parkwood Ave. (FM 528)
Friendswood, Tx 77546



Copyright 1998-2006 by Keepsake Video. All rights reserved.